ENDGAME in a double bill with Rough For Theatre II Tickets and Dates
Old Vic Theatre, London
No seats available for this day

No seats available for this day

No seats available for this day

No seats available for this day
More Information about ENDGAME in a double bill with Rough For Theatre II
Special Offer - Valid Monday - Thursday performances between 18 February - 26 March 2020 - Book by 9th March 2020
'Go and get two bicycle-wheels.' 'There are no more bicycle-wheels.' 'What have you done with your bicycle?' 'I never had a bicycle.'
Nothing stirs outside. In a bare room, Hamm, old and blind, is locked in a stalemate with his servant Clov. Interrupted only by the nostalgic musings of Hamm's ancient, dustbin-dwelling parents, this bleakly funny double act cling stubbornly to their routine of casual savagery and mutual dependence.
Richard Jones
(The Hairy Ape, Into the Woods) directs
Alan Cumming
(The Good Wife, Cabaret),
Daniel Radcliffe
(Rosencrantz & Guildenstern Are Dead, Harry Potter film series),
Jane Horrocks
(King Lear, Absolutely Fabulous) and
Karl Johnson
(King Lear, Mum) in
Samuel Beckett's
macabre comedy in which hope and cruelty are the last things to die.
Endgame
will be presented in a double bill with Beckett's rarely seen short play
Rough for Theatre II
, in which two men discuss the fate of the other man in the room, who never speaks. This will be performed by members of the company. Suitable for ages 14+, infrequent use of strong language
Production Shots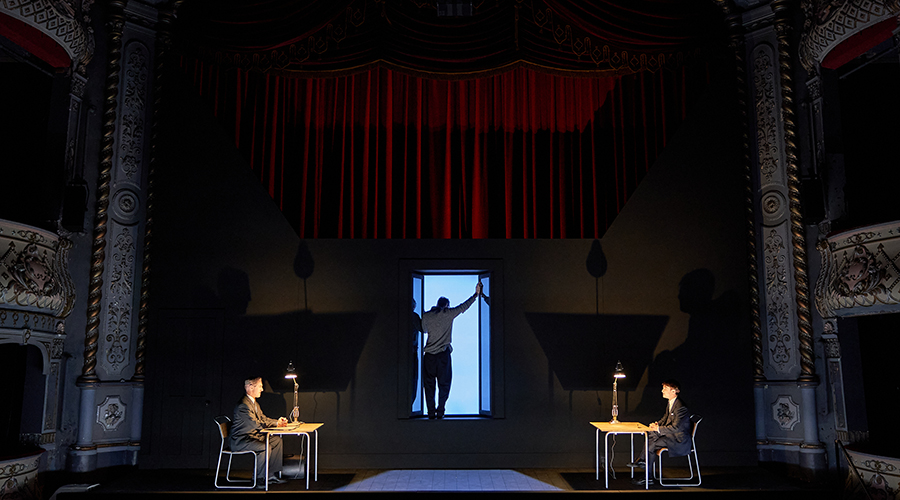 Important Information
Booking period:
1 February - 28 March 2020
Running Time:
TBC
Age recommendation:
14+
Venue
: Old Vic Theatre, The Cut, Lambeth, London SE1 8NB